This splatter paint cake was the perfect dessert for an 80s-Prom-themed 50th birthday.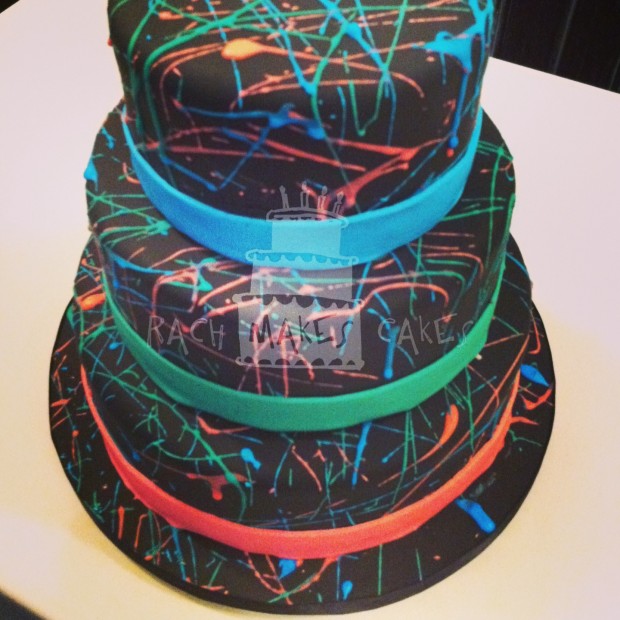 I just love how this turned out. The best part is how easy this was to decorate. I covered the cakes in black fondant and then drizzled royal icing from a spoon (scroll down for the recipe). It's just as easy as it sounds, too!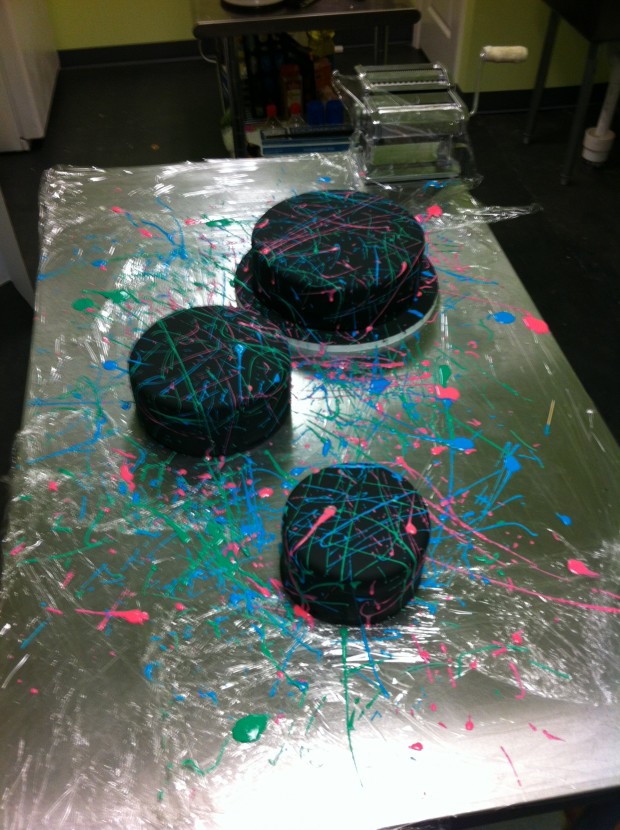 As you can see, the biggest drawback to this design is how messy it gets. Before I got started, I covered my table in plastic wrap. While I was slinging icing, I used my airbrush back drop (not pictured) to catch some of it before it hit the floor. Word of warning for all of the home bakers out there: icing WILL get on your floor, so if you're in a carpeted room, or have super nice hardwoods, you might want to put a drop cloth on the floor before you begin.
Royal Icing Recipe:
2 large egg whites (or 5 tbs meringue powder)
4 cups powdered sugar (I use 10x, so there's no need to sift it)
Roughly 1/2 cup water
Slowly add the powdered sugar to the eggs (or meringue powder). Slowly add the water until you reach the desired consistency. I recommend using a mixer for this.
For this project, you want the icing to have the same consistency as paint. I divided mine into three bowls, added gel color until I reached the desired shade and then added a tad more water to get the right consistency. You'll have enough icing to decorate a 4th and 5th tier, also, if you need it.
(For my cake, I scraped off some of the splatters at the bottom of each tier so my fondant ribbon would lay flat.)