A friend of ours bought a delicious, cereal-topped doughnut, sent me a picture and asked if it was possible to make a cupcake in similar form. My answer was YES!
The first experiment involved Coco Puffs. I made my normal chocolate cake batter and added Coco Puffs. I couldn't tell you the exact measurement, but I just poured them in until it felt right. My mixer's beater crushed some of them and left others whole. I divided my batter into cupcake pans and baked them like normal.
I didn't do anything special for the icing. I iced half of them with chocolate buttercream and the other half with vanilla. As soon as I piped the icing, I flipped it over and dipped it into a bowl of Coco Puffs. You need to dip them right away or they won't stick to the icing. Here's the finished product: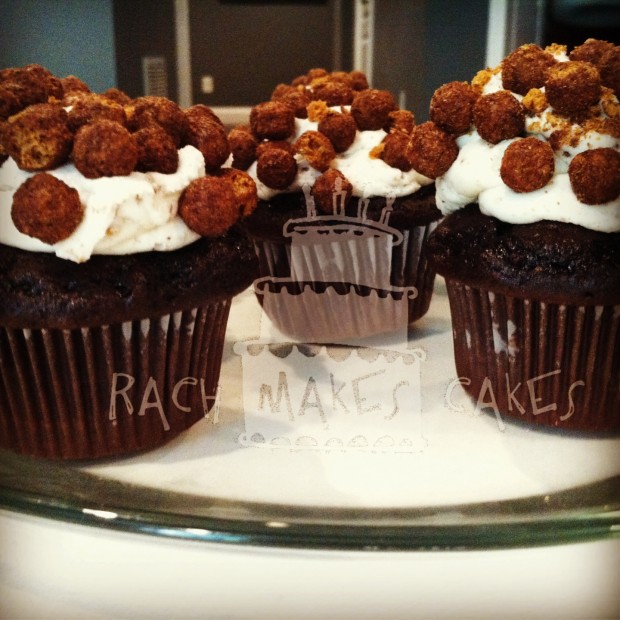 So, so good.
The second experiment involved Cap'n Crunch Berries cereal. This time, I used my vanilla cake recipe and followed the same method for preparing the batter.
I won't lie, Cap'n Crunch Berries is my all time favorite cereal, so I wanted to use as much as possible. I made vanilla buttercream and then mixed the cereal into my icing. Like I said before, the beater blade left some pieces whole, and crushed some. It kind of had that "Funfetti" look to it with specs of yellow, blue, red, and purple. If you choose to add cereal in this step, you'll probably need to add more milk to your icing.
When you get ready to ice the cupcakes, don't use a tip. It's really difficult to get a decent sized piece to come out of the tip (I was using a 1M). I just cut off the end of my bag and let it flow. Immediately after icing them, I flipped and dipped. Here's the finished product: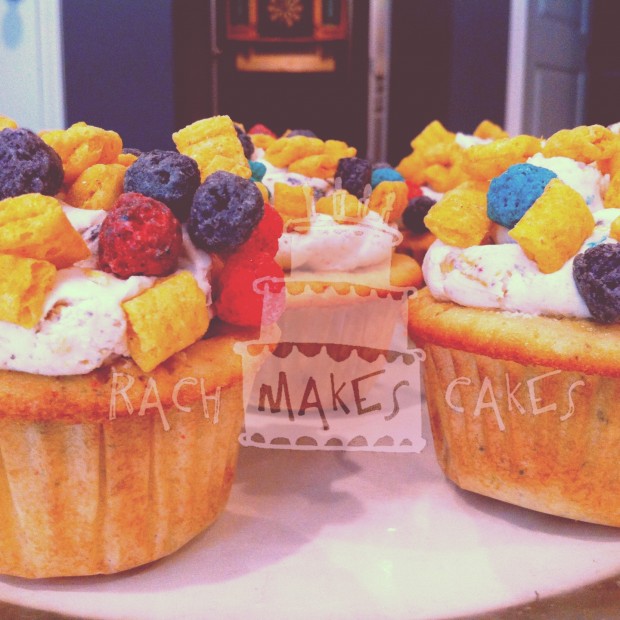 The overall opinion of these two: AWESOME! But the Cap'n Crunch cupcakes were the crowd favorite.
What's your favorite cereal? I'm already planning on trying this using my cinnamon cake/buttercream combo and adding Cinnamon Toast Crunch cereal.