What's one of the best parts about planning a wedding?  Sampling the delicious food you'll be serving at your rehearsal and wedding.  What's even better than that?  Tasting the cake, of course!  I feel like most couples really enjoy the cake tasting process because there's no pressure…just delectable sweets.
I know most of my readers are home bakers, but I guarantee you, someone will ask you to make their wedding cake at some point in time.  Even though it'll probably be a close friend or family member, you'll still want to do a tasting for two reasons.  One: you want to make sure you're both on the same page when it comes to how the cake will taste.  Two: you don't want them to miss out on this experience.
First things first, ask the couple what they'd like to try.  There are so many options for cake, icing and combinations of both.  To get started, I usually send the couple a list of my most popular flavors.  This usually gives them an idea of what your other clients have requested.  I also ask if there are any family favorites that they'd like me to make.  Unless there's a special request, I provide 4-5 flavors for the couple to try.
Be sure to ask the couple if they plan on bringing any other people with them.  I don't limit the number of people, but I like to have enough plates and forks out for everyone.
Make these samples the same way you'll make their wedding cake.  If you're going to bake their cake the day before the wedding, make the samples the day before.  If you're going to bake it 2 weeks in advance, freeze it and then thaw it out, do the same thing with the samples.  You don't want the couple trying one thing at the tasting and the wedding cake turning out completely different.
In addition to cake, I also like to offer beverages and some kind of palate cleanser, or salty snack after everyone has eaten cake.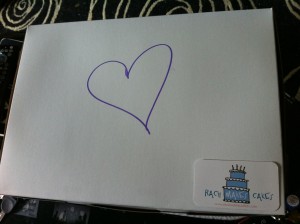 Last weekend, I hosted a tasting for my friends, Paul & Jessica.  Rather than have them over to my place, we had the tasting at their house after Jessica's bridal shower.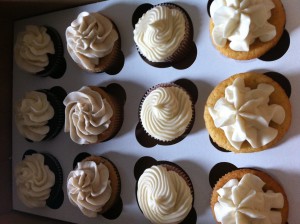 They've eaten my cake before…probably more times than they can count.  For their tasting, I brought the following flavors:
Chocolate cake with vanilla buttercream
Cinnamon cake with cinnamon buttercream – a nice option for fall weddings
Lavender cake with cream cheese icing – the bride loves lavender, so this was a fun one to try
Vanilla cake with vanilla butter cream
My most popular flavor is butter-almond cake with raspberry filling and almond buttercream.  I knew they wanted that flavor for at least one tier, but I didn't bring it to the tasting.  They actually ate it the night before at a birthday party, so it was still fresh on their minds and taste buds.
The design and flavors for their cake are finalized, so be on the lookout for a picture later this month!