My friend, Lauren, turned 30 at the end of August.  As if we ever need an excuse for a party, Lauren thought of a good one.  This milestone birthday shin-dig served as a fundraiser to benefit Children's Healthcare of Atlanta.  Long (very long) story short, her son, Noah, had a stroke before he was born and their family spends an enormous amount of time at the hospital.  In Lauren's words,
As most of you know, Noah has received fantastic care from Children's Healthcare of Atlanta. I want to do my part to give back, and a perfect way for me to do so is by hosting a fundraising event. Children's Healthcare relies on the support of the community to keeps its doors open, and treat nearly 8 of 10 children in the state of Georgia.
I was honored when Lauren asked me to provide the cake for the event.  The theme of the event was "When I grow up, I want to be a …"  For this costume party, she asked everyone to come dressed as what they wanted to be when they were growing up. We wanted the cake to really jive with the theme, so we decided cupcakes would be the way to go.
I made 100 cupcakes in five different flavors and each flavor had it's own profession-themed decor on top.  In no particular order, here they are:
When we arrived at the party, Trav and I felt like we were on an episode of Cupcake Wars trying to get all of them set up.  Sure, it takes time and patience to make and decorate the cupcakes.  However, for me, it's way more stressful to get them out of the box and safely on the stand without dropping/knocking/tipping/bumping something.  Thankfully, there were no casualties during our set-up.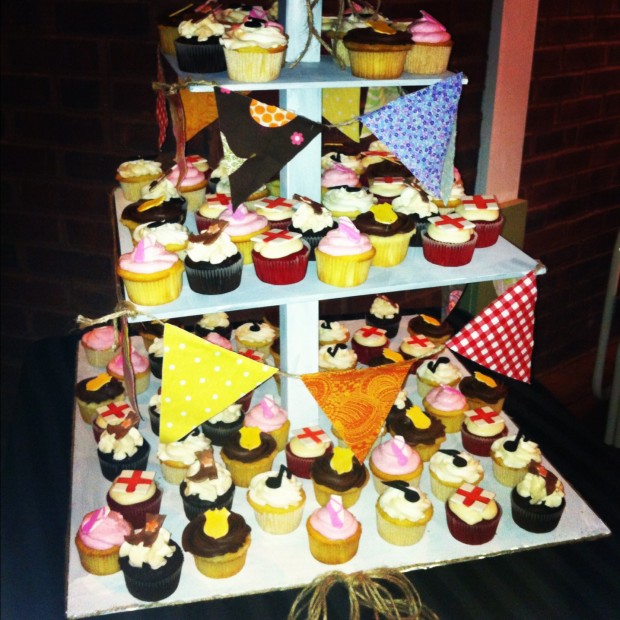 If you'd like to try your hand at making similar cupcakes, check out the mini-tutorials I posted for the Cowboy and Ballerina cupcakes.